PADELA TOURNAMENT
Charity Padel Tournament in support of the fight against ELA
This weekend the PADELA Tournament is played, a charity Padel tournament,aimed at fighting  ALS disease in collaboration with the Miquel Valls Catalan Amyotrophic Lateral Sclerosis Foundation.
It will be played at our club on Saturday 20 and Sunday 21 November throughout the day, both in the men's and women's category.
If you want toplay, you can register  until tonight at 11:59 p.m.  here. A fabulous welcome pack
awaits you!  
You can see the official poster  here.
If you have any questions, send an email to:  padel@laieta.cat
It will be a weekend full of gifts, surprises, raffles, paddle tennis, personalities from the world of sport and the presence of Juan Carlos Unzué!
We make a more supportive Club,
Let's do more Laietà!
C.E.Laietà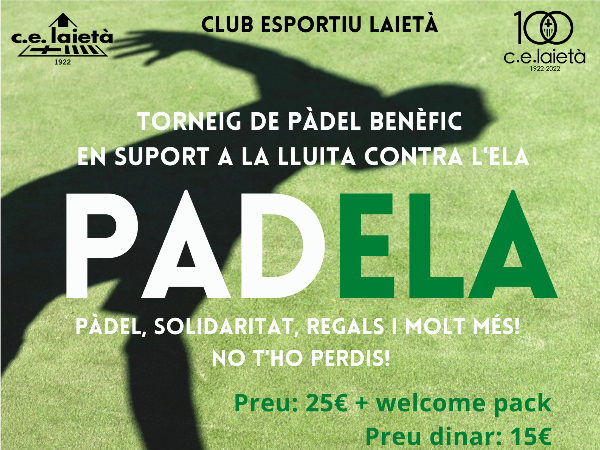 ---
LA MARATÓ DE TV3 ARRIVES AT LAIETÀ
Saturday, December 11 from 10 a.m.
This year our club will be present in a very significant way in the Marató de TV3,aimed at mental health.
On  Saturday, December 11 from 10 am you are invited to turn the  Laietà into a party of sport and solidarity.
We have prepared  games, activities, prizes, gifts and many surprises that will end with a popular grill at noon.
Invite  friends, friends and family to come to Laietà  to live a unique day.
We are waiting for you!
For more information and to make your donations, go to la  Marató's website here.
The centenary events begin and we want to celebrate it with all of you!
Walking together towards the Centenary
C.E.Laietà (1922-2022)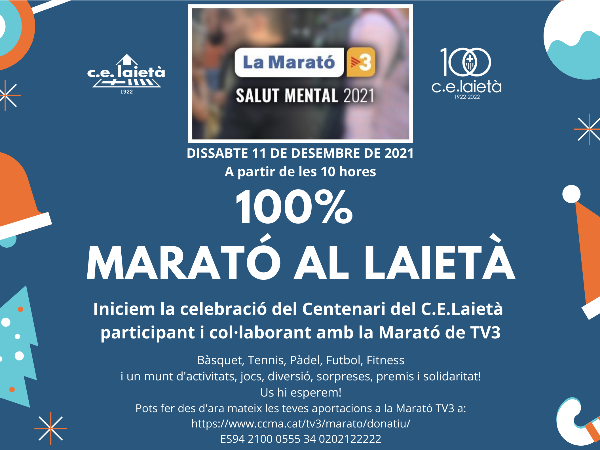 ---
DECEMBER AT CENTX100LAIETÀ
A month full of news
We are already entering the last month of theyear, a bucolic and endearing time. With him, dinners and lunches arrive with colleagues, friends and, of course, with family. If you want to enjoy a unique festive atmosphere and accompany us during this time of year, at  Centx100Laietà we make it very easy with our special dishes and menus.
Celebrate your business lunch or dinner
If you are organizing christmas business lunch or dinner,do not hesitate to ask for information about the specialmenus in the Club Restaurant.
We offer you a wide range of possibilities to make your lunch or dinner a success, from the quality of our fresh products, the great cuisine of our team and a unique environment of the city of Barcelona.
Call 934486119 phone or send an email to  centx100laieta@globalbarcelona.es,  we will help you and advise you to make your event a success.
Saint Stephen's Day and New Year's Eve
Once again we celebrate the traditional Sant Esteve lunch and New Year's Eve dinner,with a wide variety of high quality dishes and meals designed and designed by ourchef, who will surely not leave you indifferent. If you want to get away from the stove and kitchen the Centx100Laietà is your corner, the Centx100Laietà is your family restaurant.
We do not want to leave aside, hence the origin of our name, that this year the New Year's Eve dinner will be very special for all of us, is the beginning of the centenary year. With the 12 chimes we celebrate the entrance of the year 2022 and the beginning of the celebration of 100 years of history.
Ask for more information on the 934486119 phone or email at  centx100laieta@globalbarcelona.es
Novetat Take Away
We do not stop and look for the best service for tot@s vosaltr@s. This year as a novelty we have the option of Take Away (pick up at Centx100Laieta).
A wide variety of  dishes to accompany your menus during lunch and dinner at your home on December 24, December 25 and December 26.
Until December 20th you can place your orders on the phone 934486119 or email centx100laieta@globalbarcelona.es. Take  Away will be picked up on December 24th until 7 p.m. at the Club's restaurant.

We hope that this  December will be very special for tot@s you and we can share the best time of year with you.
Are you going to let them tell you?
Check all our letters on the website of the Laietà Sports Club.
Centx100laieta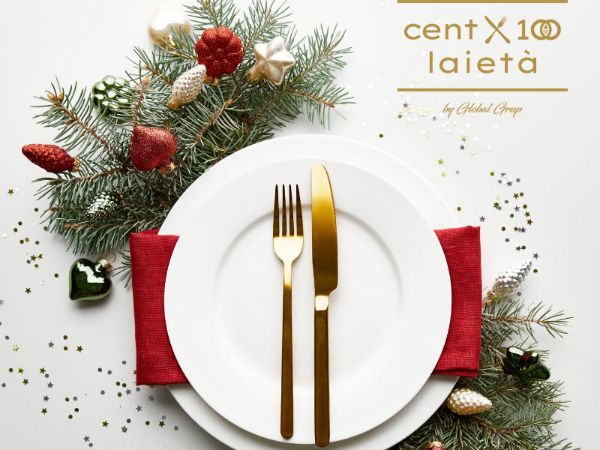 ---
RESULTS OF THE MATCHES C.E.LAIETÀ
Check all the results of our club
As every Monday,we inform you of the results of our sections and sports schools.
Results of the week from 8 to 14 November:
Go Laie!
C.E.Laietà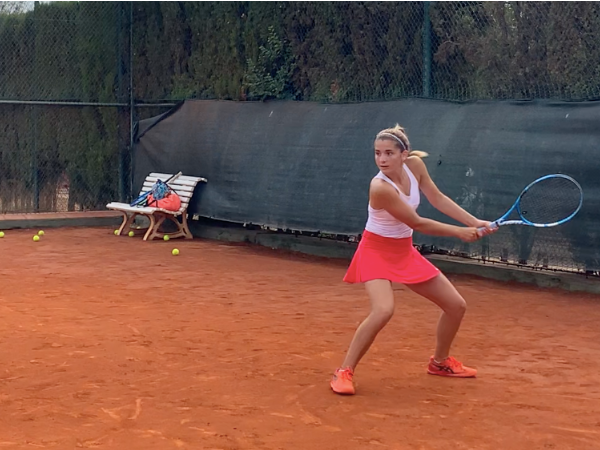 ---
ONLINE BOUTIQUE OF THE C.E.LAIETÀ
Available on the website
Dear users,
we remind you that you have at your disposal the online store of the Laietà Sports Club.
You will find  T-shirts, polo shirts, sweatshirts, jackets, vests, softshells, towels and lots of clothes for men, women and children.
Come in now and discover the Centenary special line and all our ideal accessories to buy and give!
Don't think twice, choose the one you like the most,
Click here:  Laietà's shop
Dress Up Laietà!
Make Laietà!
C.E.Laietà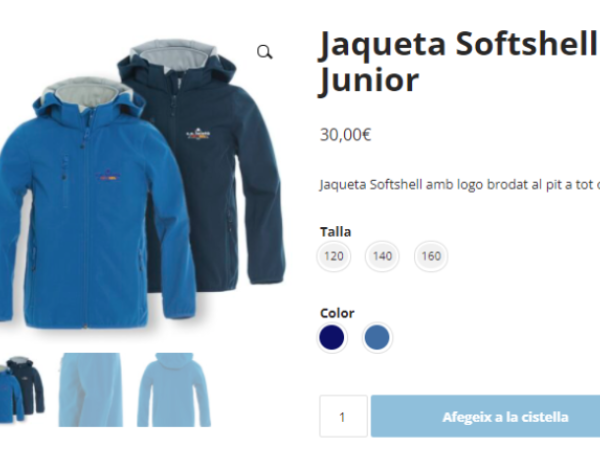 ---
CLUB LOTTERY
Now on sale
Dear users,
remember that you already have at your disposal the Christmas Lottery of the Laietà Sports Club.
Our number is  18.279 and you can buy it at reception for 5€.
Don't run out!
Good luck Laietans and Laietanes!
C.E.Laietà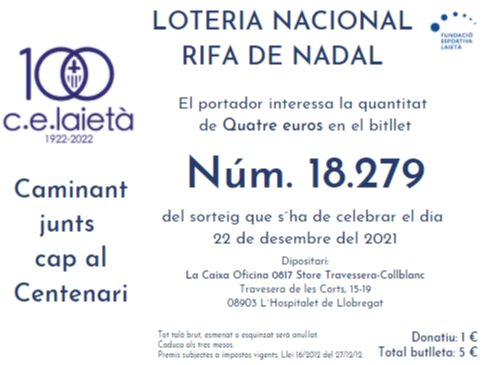 ---
SOCIAL ADVANTAGES
First incorporations
We already have the first additions to our portfolio of social advantages for our partners / subscribers!
We welcome our first collaborators:
– Signum Marketing
– Escola de Música Farré
– MCR Seguros
You can consult its advantages to be a member or subscriber of the C.E.Laietà  here.
Remember that this is a campaign in which if you have or know of someone who has a business, a company or a trade you can offer us social advantages and exclusive offers for our partners and subscribers.
You will appear on our website, disseminate it and enhance your business.
Write an email to  marketing@laieta.cat and make us your proposal.
Cheer up! We all win!
C.E.Laietà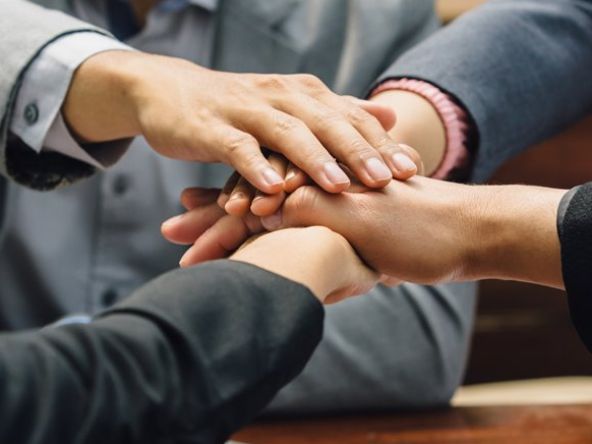 ---
WHATSAPP BUSINESS
Sign up now!
Remember that you are invited to be part of our WhatsApp Business community in order to receive communications and broadcasts more directly and instantaneously.
The questions we are informing you of at the moment are:
Meteorological incidents (rain, wind, etc.)
Status of the tennis and paddle tennis courts and other facilities
Unexpected suspension of any planned activity
Closure of services
Other information of interest
Please note that this WhatsApp Business  channel is NOT used to resolve doubts or queries and is one-way.
If you want to  be part of the Club list and receive all communications, you have  2 options:
Save the number: 655 089 446 on your contact diary
Click this link from your phone or mobile device (not from a computer):  https://wa.me/message/QGLMO7NZ2EOFM1
Very important:
In order to receive the communications that we will make from the Club,  you must save our phone number in your contacts diary and simply write us a "Hello!" or send the message that you will be default.
We continue  to grow, wecontinue to improve,we continue to make Laietà a Club every day better and closer!
C.E.LAIETÀ