PADELA TOURNAMENT
and collaborate!
This coming weekend the PADELA Tournament is played, a charity padel tournament,aimed atthe fight against ALS disease in collaboration with the Miquel Valls Catalan Amyotrophic Lateral Sclerosis Foundation.
This tournament will be played at our club on Saturday 20 and Sunday 21 November throughout the day, both in the men's and women's category.
You can see the official poster  here.
Registrations are already closed, but you can come and see the matches that will be played, enjoy the tournament, have lunch at the club and participate in the numerous draws that will take place on Sunday 21 from noon.
Thus, in addition to choosing to  win many awards, you will collaborate on a good cause!
Two days full of gifts, surprises, draws, paddle tennis, sports personalities….. and with the presence of Juan Carlos Unzué!
We make a more supportive Club,
Let's do more Laietà!
C.E.Laietà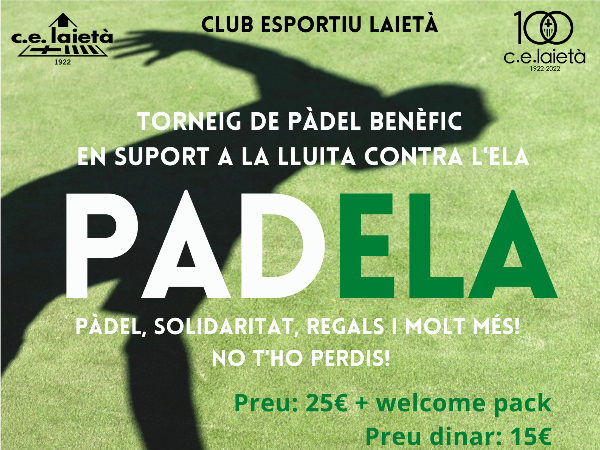 ---
CATALAN TENNIS CHAMPIONSHIP
Double parents and children with 3 families from Laietà
This past weekend, the Catalan Double Parents and Children Championship was held at the Andrés Gimeno Tennis Club.
Three couples represented our Club,  father and son Benilan, father and son Archer and father and son Paga.
Of these, we want to highlight the brilliant performance of the Benilan, Ivan (father) and Vladimir (son) who were proclaimed Consolation Champions.
Congratulations to everyone!
C.E.Laietà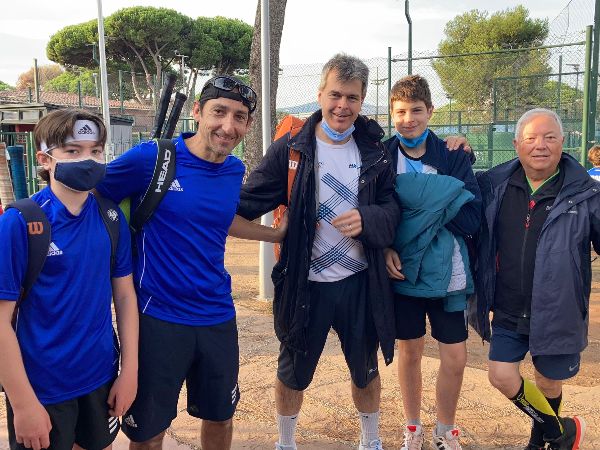 ---
BARÇA-ESPANYOL AT LAIETÀ
Saturday, November 20 at 9 p.m.
This coming Saturday, November 20th,  we are waiting for you at Laietà to live the great Catalan football derby,  Barça-Espanyol!
From  9 p.m. we are waiting for you on the giant screen of the Pergola!
Fem Club,Fem Laietà!
C.E.Laietà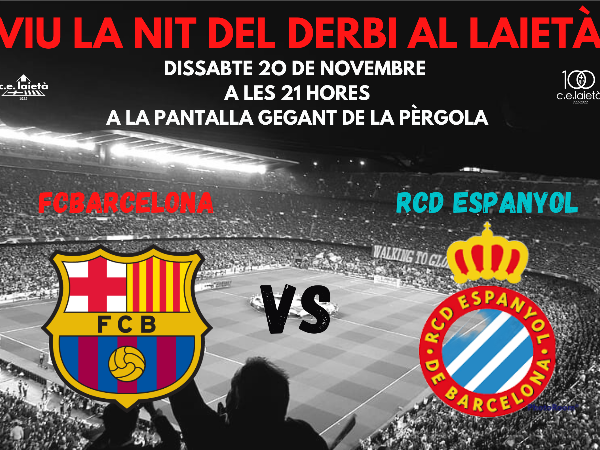 ---
MATCH AGENDA C.E.LAIETÀ
All the matches of our club
As every Thursday,we inform you of the  upcoming games of our sections and sports schools. Here you can check the agenda of the matches of the week from 15 to 21 November:
Come and cheer on our teams!
We need you!
Force Laie! C.E.Laietà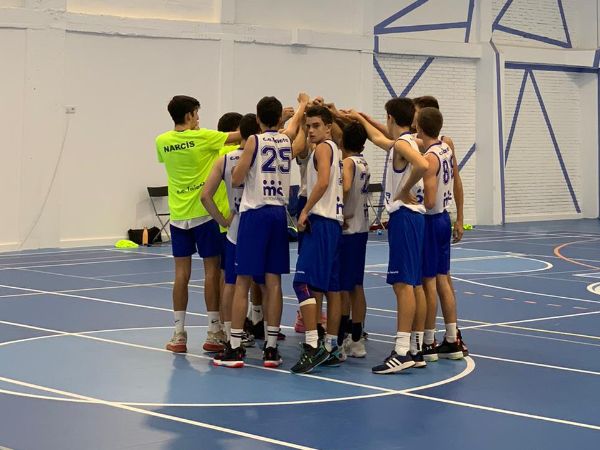 ---
LA MARATÓ DE TV3 ARRIVES AT LAIETÀ
Saturday, December 11 from 10 a.m.
Remember that this year our club will be present in a very significant way in the Marató de TV3,aimed at mental health.
On  Saturday, December 11 from 10 am you are invited to turn the  Laietà into a party of sport and solidarity.
We have prepared  games, activities, prizes, gifts and many surprises that will end with a popular grill at noon.
Invite  friends, friends and family to come to Laietà  to live a unique day.
We are waiting for you!
For more information and to make your donations, go to la  Marató's website here.
The centenary events begin and we want to celebrate it with all of you!
Walking together towards the Centenary
C.E.Laietà (1922-2022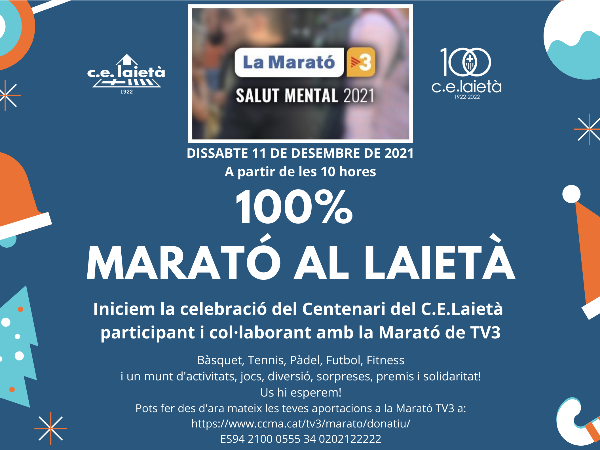 ---
CENTX100LAIETÀ
Always by your side
MENU OF SANT ESTEVE IN CENTX100LAIETA
One more year we celebrate the traditional lunch of Sant Esteve with an adult menu and a children's menu designed and designed by our chef, who will surely not leave you indifferent.
A wide variety of high quality dishes to choose from a first and a second course and then we will accompany it with our wide variety of homemade desserts. If you want to get away from the stove and kitchen the Centx100Laietà is your corner, the Centx100Laietà is your family restaurant.
Check the letter here.
To confirm the reservation, you must make the payment in advance and choose the first and second course of the Sant Esteve menu before December 20th.
Ask for more information by phone 934486119 or email at centx100laieta@globalbarcelona.es
NOVELTY TAKE AWAY AT RESTAURANT CENTX100LAIETÀ
We do not stop and seek the best service for tot@s vosaltr@s. This year as a novelty we have theoption of Take Away (collected at Centx100Laieta).
A wide variety of dishes to accompany your menus during lunch and dinner at your home on December 24, December 25 and December 26.
Until December 20th you can place your orders on the phone 934486119 or in the mail centx100laieta@globalbarcelona.es. Take Away will be picked up on December 24th until 7 p.m. at the Club's restaurant.
Check the take away menu here.
Are you going to let them tell you?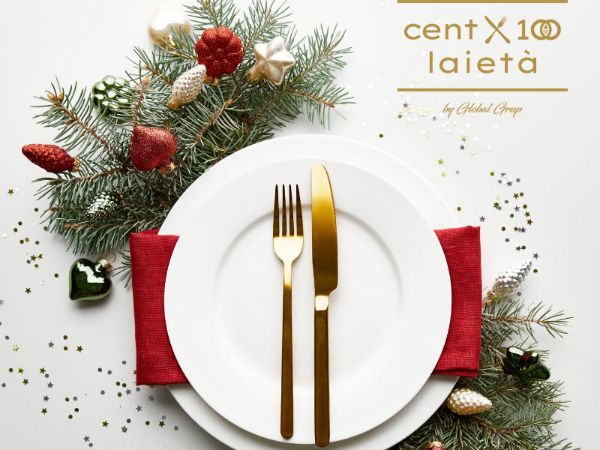 ---
LAIENADAL
The Christmas campus of Laietà
This winter come and enjoy sport and Christmas in Laietà, come to Laienadal!
A sports campus aimed at 3 to 12 years old in which the little ones of the house will do  tennis, paddle tennis, sports, recreational games, workshops, and many more activities!
The Laienadal will take place on  23, 24, 27, 28, 29, 30 and 31 December and 3, 4, 5 and 7 January,
Registrations will be open from next Monday! We are waiting for you!
For more information click  here, send anemail to:  direccio@laiestiu.cat or ask  Customer Service.
C.E.Laietà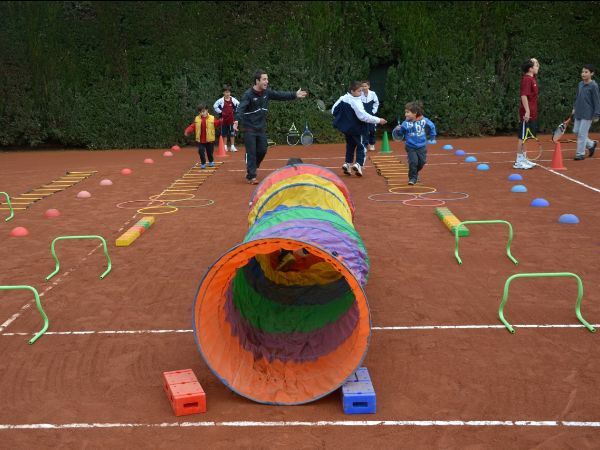 ---
ANTICOVID CAMPAIGN
The Laietà a safe space
Dear members, users, we
remind you that the capacity in outdoor sports facilities and in enclosed spaces is already 100%, but that the use of the mask in closed spaces and outdoors is still mandatory, as long as the safety distance cannot be respected.
We make a safer Club,
we make a better Laietà!
C.E.Laietà