WE START THE CENTENARY!
100% Marathon in Laietà! Saturday, December 11 from 10 a.m.
We have everything ready for next Saturday, December 11, in order to make Laietà a party of sport and solidarity together with La Marató de TV3 and to kick off the centenary events!
The activity will consist of first going through the control tent and making a donation of 10€ to participate in the day. In return you will be given a card with a map of the club where the different activities to be carried out will be located.
The objective will be to go through each and every one of the stations where you will find monitors that will mark on your card that in effect you have done the activity. Among others there will be activities such as: tennis, paddle tennis, basketball, futsal and zumba.
Once you have  done the whole route and with all the boxes checked,you will have to go through the social track where you will be given the Centenary drum.
In the same  social track we will make a great family photo, the symbolic delivery of the giant heel with all the collection of the day that will go to La Marató de TV3 and a small act of beginning of the events of the Centenary!
In the control tent you can also make your donations, beyond 10€ to participate in the activities. The day will end at noon with a popular grill in La Pergola.
We remind you that it will be an open day and that we will be happy to welcome  friends, friends and family to come to Laietà  to live a unique day.
Schedule of La Marató de TV3 in Laietà:
10 hours: opening of the control tent
10 a.m. to 1:30 p.m.: start of activities (3 tennis activities, 4 paddle tennis activities, 3 basketball activities, 3 futsal activities and 3 zumba classes).
10:30 am: Start of grilling by our Gastronomic Society (sausages, frankfurters, hamburgers, lamb chops, steak and much more)
13:30 pm: meeting of all participants on the social track to take family photo and the delivery of the giant heel with the collection
1:45 p.m.: Start of the Centenary!
14 hours: Great popular grilling in La Pergola
*For your information this day the following facilities will be affected: central tennis courts and courts 11 and 12, paddle tennis courts from 10 to 13, football field, hockey court and social basketball court.
In addition, that day you can take the photo with the Basketball Golden Ball that we were given at the Hall of Fame entrance event!
The centenary events begin and we want to celebrate it with all of you! We are waiting for you! Check here the  program.
Walking together towards the Centenary
C.E.Laietà (1922-2022)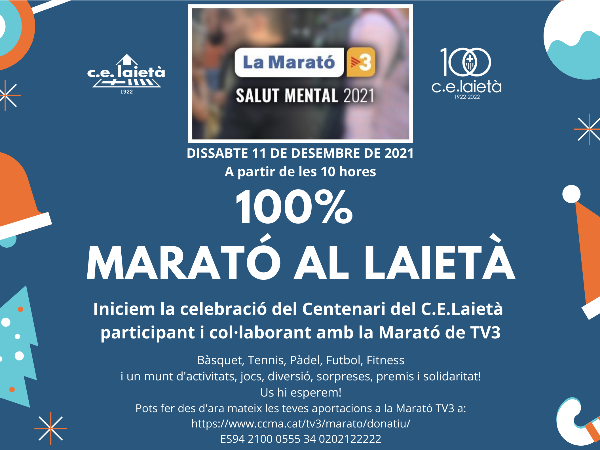 ---
CENTENARY DOCUMENTARY
You can now enjoy a first preview
Dear partners,
Today we are pleased to send you the  teaser  of the Centenary Documentary,a first preview of what will be the final project that we will present with all the honors and as this event deserves during 2022.
To enjoy this scoop  just click  here.
Enjoy it!
Walking Together Towards the Centenary!
C.E.Laietà 1922-2022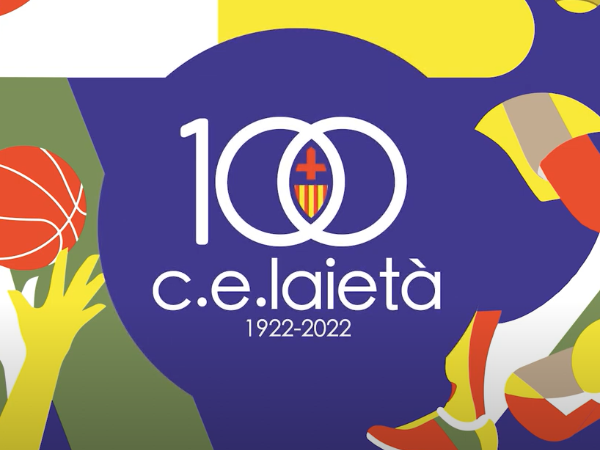 ---
ANTI-COVID CONTROL MEASURES
Laietà Sports Club a safe space
We remind you that the Club has taken appropriate public health measures to contain the epidemic outbreak of the COVID-19 pandemic in Catalonia.
Thus, we inform you that tomorrow the access protocol foreseen in certain services of the Club will be activated for at least the next 14 days of validity of the resolution.
It will be mandatory to show the covid certificate,in order to access the  sessions of directed activities and the fitness room, and it will be necessary to show the monitor or access control staff the current certificate of complete vaccination of COVID 19, certificate of having passed the disease during the last six months or certificate of having done a PCR during the last 24 hours.
It will also be necessary to show official document proving identity, type D.N.I. , passport, driver's license or similar.
For its part, the restaurant will establish the control measures of its sector.
As for the changing rooms we have detected in some cases the lack of use of the mask,  which will lead us to increase the controls and apply the sanctioning regime in cases of recidivism. We pray the continuous use of the mask and that it is only removed at the specific moment of the shower to put it back immediately after leaving the water.
Remember that to obtain the complete vaccination certificate, we leave you this small guide to get it.
It's easy. Just access the  My Health portal of the Department of Health and click on the Reportsand Results  sectionand go to the  Vaccines section and EU Digital COVID certificate. Then you have to choose which of the three types of  certificates you want to obtain: vaccination, recovery or diagnostic test. Once the document has been selected, you must press the  "request" option.
Shortly afterwards, we will have your passport available with a QR code in the mobile application. If we want the pdf file, just click on the "download" button.
*The link is correct, but the web can be saturated at many times, so be patient.
We ask for the maximum collaboration and understanding of all in order to ensure the containment of the pandemic.
Thank you very much to the whole Layetana family!!!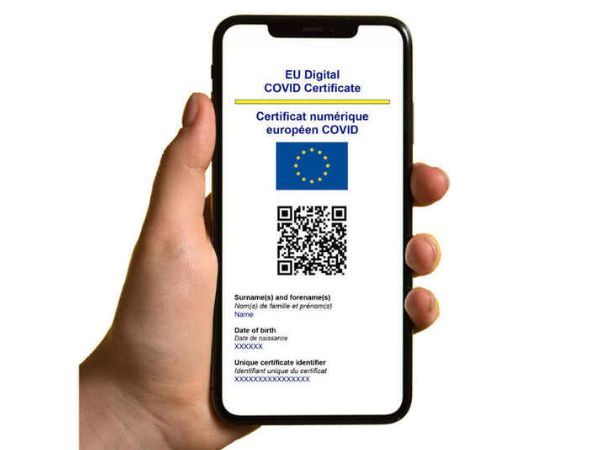 ---
LAIENADAL
Your Christmas campus in Laietà
This winter come and enjoy sport and Christmas in Laietà, come to Laienadal!
A sports campus aimed at 3 to 12 years old in which the little ones of the house will do  tennis, paddle tennis, sports, recreational games, workshops, and many more activities!
The Laienadal will take place on  23, 24, 27, 28, 29, 30 and 31 December and 3, 4, 5 and 7 January,
Registrations are already open! We are waiting for you!
For more information click  here, send anemail to:  direccio@laiestiu.cat or ask  Customer Service.
C.E.Laietà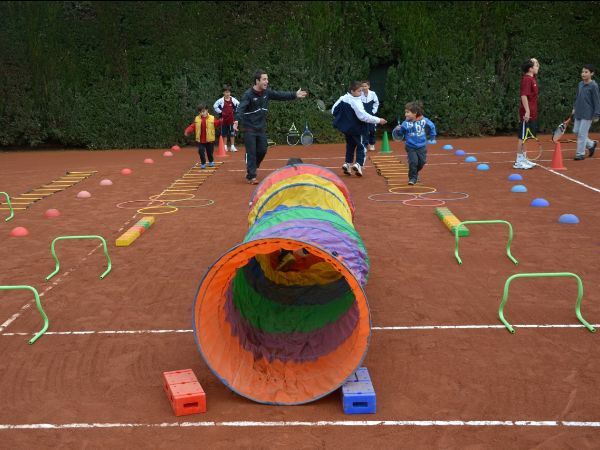 ---
CHRISTMAS BASKETBALL CAMPUS AT LAIETÀ
BASKETBALL AT CHRISTMAS!
On January 27, 28, 29, 30, 31 and 3, 4, 5 and 7 January there will be a new edition of the Christmas Campus of the Basketball Section of Laietà.
The schedule will be from  9:00 a.m. to 2:00 p.m.
We will work on various aspects of individual technique, as well as competitions, mini competitions, etc…
The campus will be open to players from Premini to Cadet (included).
Full Campus Prices:
Members: 140€Players
Section: 160€External
players: 196€Per
day:
Members: 20€Players
Section: 24€External
Players: 28€
Registrations are already open, deadline on Friday, December 17  at Member or basquet@laieta.cat Service. 
You can also fill out  this  form.
We are waiting for you!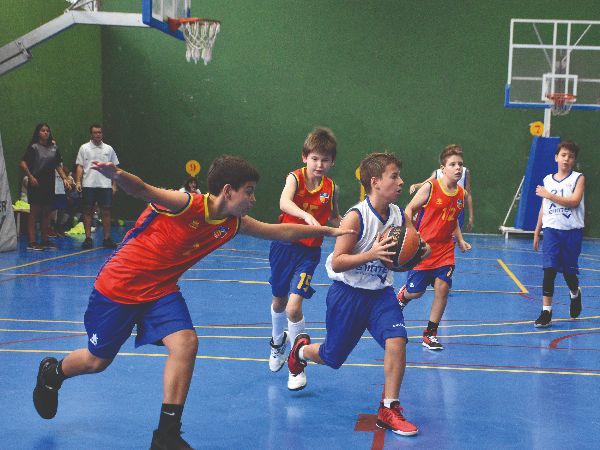 ---
CAMPUS OF FUTSAL AT CHRISTMAS AT LAIETÀ
AT CHRISTMAS FUTSAL!
On 23, 24, 27, 28, 29, 30 and 31 December and 3, 4, 5 and 7 January, a new edition of the Christmas Campus of the Laietà Futsal Section  will be held for children from  5 to 12 years old.
The schedule will be from  9:00 a.m. to 5:00 p.m.
Full Campus
Prices: Members: 275€
Players Section: 320€
External players: 385€Per
day:
Members: 32€
Players Section: 35€
External Players: 45€
Registrations  are already open, deadline on Friday, December 17  at  Member Service  or  futbolsala@laieta.cat.
You can also fill out  this  form.
We are waiting for you!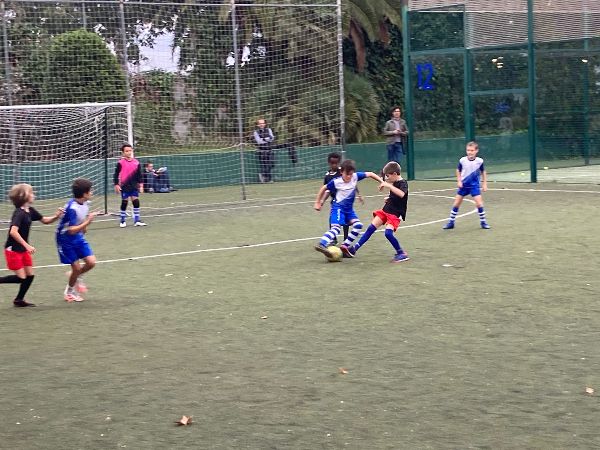 ---
PADDLE STAGE
Paddle at Christmas!
This Christmas we are waiting for you on the paddle tennis courts!
From 27 to 31 December 2021 and for minors (from 8 to 16 years old)
From 9 a.m. to 12:30 p.m.: 2 hours of class and 1 hour of match
Minimum group of 3 students (all levels)
Limited places
Price for Members or students: 175€ (week)
Price for Non-members: 225€ (week)
Information and registration: padel@laieta.cat
All the information  here.
C.E.Laietà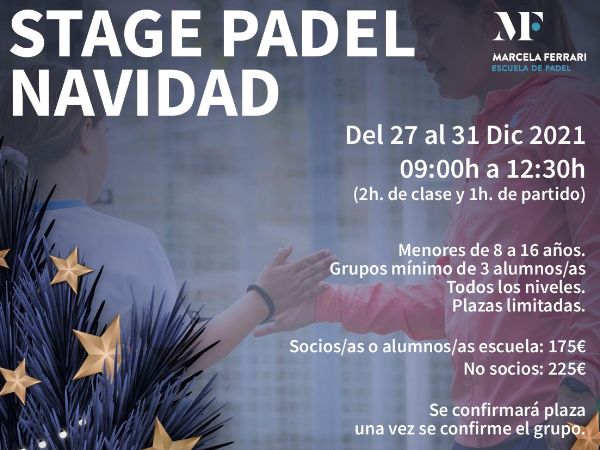 ---
STAGE TENNIS
Dear
This year, for the Christmas holidays, from  December 27 to 31, we organize from the Tennis section, a morning training stage from 8:30 a.m. to 10:30 a.m.
This stage includes  intensive track tennis training and the follow-up of the Pere Masip del Laietà circuit tournament.
In order to track the student's championship, it is necessary to register the Pere Masip Laietà tournament directly through the  F.C.T.
The prices of the stage are:
Members: 130€
Non-members: 150€
The price includes  2 hours of competition training + follow-up tournament Pere Masip del Laietà.
NOTE: If you do not reach a minimum of students enrolled, you will not be able to do the Christmas stage.
However, we have a limited number of places for this activity.
Registrations to:  coordinaciotennis@laieta.catIt is necessary to indicate the name and surname of
the student, date of birth and contact number.
C.E.Laietà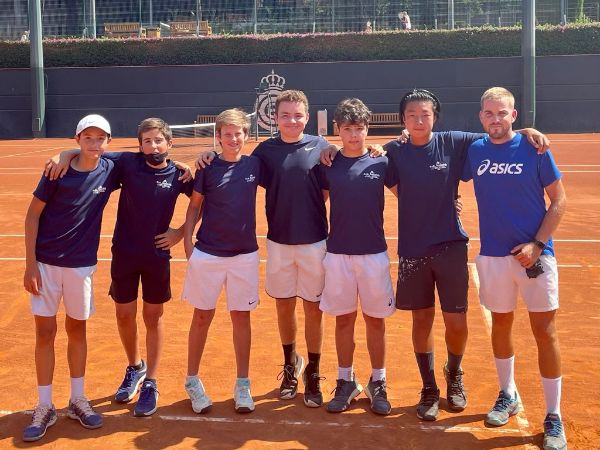 ---
LANGUAGES TARRADELLAS
Today Thursday
Laietans! As every Thursday, the Talk &Drink d'Idiomes Tarradellas arrives.
The objective of this activity is that you practice the language in a fun and enjoyable way,without the formality of a class, while at the same time having a delicious drink prepared by our favorite bartenders.
Chris, our super teacher, prepares very diverse activities, every week on a different place in the world, and usually ends up singing songs with a lot of rhythm with the guitar.   You do not need to have a good level of English, as the activities adapt to you.
This week we will go to Portugal and discover things about the neighbouring country while we learn English.
Do not miss:  today, Thursday, December 2, at 7 p.m. in the VIP room of the restaurant. This activity costs  15 euros, with the drink included, and you do not have to bookit,  just come to the VIP room a few minutes before 7 p.m. and ready.
Easy isn't it?
Hope to see you there!
Languages Tarradellas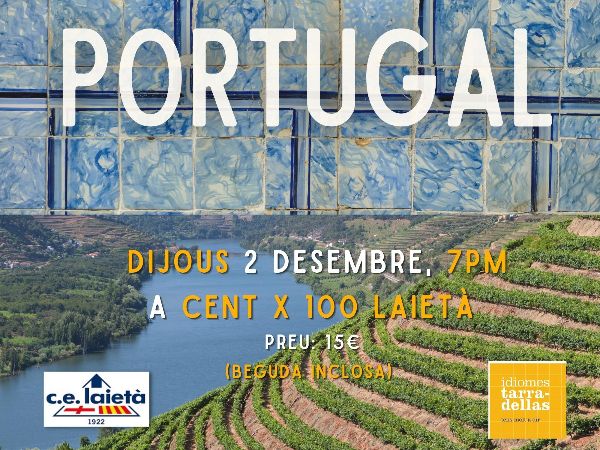 ---
DECEMBER AT CENTX100LAIETÀ
A month full of news
We are already entering the last month of theyear, a bucolic and endearing time.
With him, dinners and lunches arrive with colleagues, friends and, of course, with family.
If you want to enjoy a unique festive atmosphere and accompany us during this time of year, at Centx100Laietà we make it very easy with our special dishes and menus.
Celebrate your business lunch or dinner
If you are organizing christmas business lunch or dinner,do not hesitate to ask for information about the specialmenus in the Club Restaurant.
We offer you a wide range of possibilities to make your lunch or dinner a success, from the quality of our fresh products, the great cuisine of our team and a unique environment of the city of Barcelona.
Call 934486119 phone or send an email to  centx100laieta@globalbarcelona.es,  we will help you and advise you to make your event a success.
Saint Stephen's Day and New Year's Eve
Once again we celebrate the traditional Sant Esteve lunch and New Year's Eve dinner,with a wide variety of high quality dishes and meals designed and designed by ourchef, who will surely not leave you indifferent. If you want to get away from the stove and kitchen the Centx100Laietà is your corner, the Centx100Laietà is your family restaurant.
We do not want to leave aside, hence the origin of our name, that this year the New Year's Eve dinner will be very special for all of us, is the beginning of the centenary year. With the 12 chimes we celebrate the entrance of the year 2022 and the beginning of the celebration of 100 years of history.
Ask for more information on the 934486119 phone or email at  centx100laieta@globalbarcelona.es
Novetat Take Away
We do not stop and look for the best service for tot@s vosaltr@s. This year as a novelty we have the option of Take Away (pick up at Centx100Laieta).
A wide variety of  dishes to accompany your menus during lunch and dinner at your home on December 24, December 25 and December 26.
Until December 20th you can place your orders on the phone 934486119 or email centx100laieta@globalbarcelona.es. Take  Away will be picked up on December 24th until 7 p.m. at the Club's restaurant.

We hope that this  December will be very special for tot@s you and we can share the best time of year with you.
Are you going to let them tell you?
Check out all our letters here.
Centx100laietan