GREAT COLLECTION IN LA MARATÓ DE TV3
A day full of sport and solidarity
We can already inform you that the income of the 100% Marathon in Laietà  last Saturday amounted to € 4,250.
More than  200 people participated in all the activities and our Gastronomic Society served more than 300 meals.
A great success on a day when we kicked off the centenary events.
We want to thank you once again for your participation and collaboration!
C.E.Laietà
---
SANTA CLAUS VISITS THE LAIETÀ!
Thanks to the collaboration with the Association Les Corts Comerç 08028 el Santa Claus will visit us this year 3 times and will go around the Club for a while!
You can receive it on the days:
– Today Thursday, December 16 between 6 and 8 p.m.
–Tuesday, December 21 between 6 and 8 p.m.
– Thursday, December 23 between 6 and 8 p.m.
We are waiting for you with the little ones!
C.E.Laietà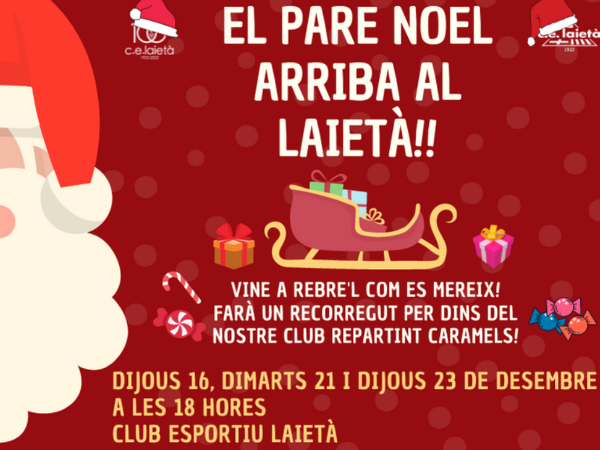 ---
COVID SITUATION
The Laietà a safe space
As you know, the pandemic situation seems to be getting worse.
From the Club, we continue to comply with the  established rules and protocols following the recommendations indicated by the Government.
So we ask you to comply with the  3 M's:
–  Mask  in enclosed spaces and changing rooms
–  Meter and a half distance between people
–  Clean hands  We make together a
safer Laietà,
Thank you for your collaboration!
C.E.Laietà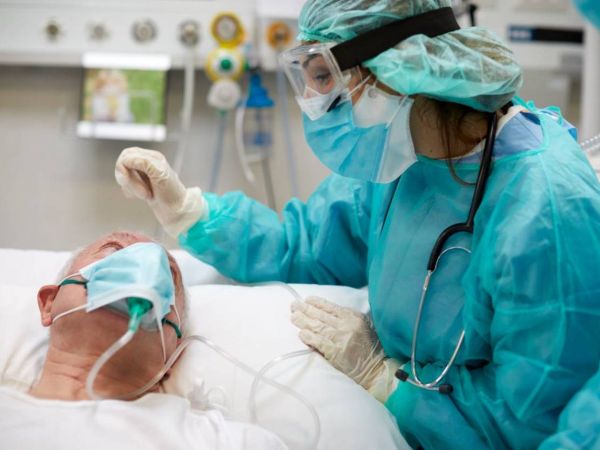 ---
LAIENADAL
The Christmas campus of Laietà
This winter come and enjoy sport and Christmas in Laietà, come to Laienadal!
A sports campus aimed at 3 to 12 years old in which the little ones of the house will do  tennis, paddle tennis, sports, recreational games, workshops, and many more activities!
The Laienadal will take place on  23, 24, 27, 28, 29, 30 and 31 December and 3, 4, 5 and 7 January,
Registrations  are already open!
For more information click  here, send anemail to:  direccio@laiestiu.cat or ask  Customer Service.
C.E.Laietà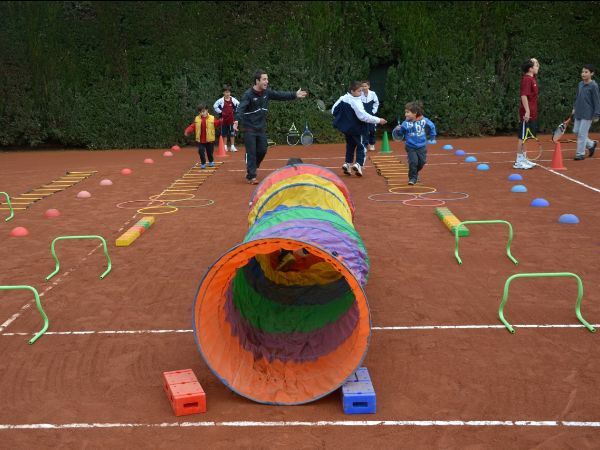 ---
CHRISTMAS BASKETBALL CAMPUS IN LAIETÀ
You can not miss it!
On January 27, 28, 29, 30, 31 and 3, 4, 5 and 7 January there will be a new edition of the Christmas Campus of the Basketball Section of Laietà.
The schedule will be from 9:00 a.m. to 2:00 p.m.
We will work on various aspects of individual technique, as well as competitions, mini competitions, etc…
The campus will be open to players from Premini to Cadet (included).
Full Campus
Prices:
Members: 140€
Players Section: 160€
External players: 196€
Per day:
Members: 20€
Players Section: 24€External
players: 28€
Registrations  are already open, deadline on Friday, December 17  at  Member service  or  basquet@laieta.cat.
You can also fill out  this  form.
We are waiting for you!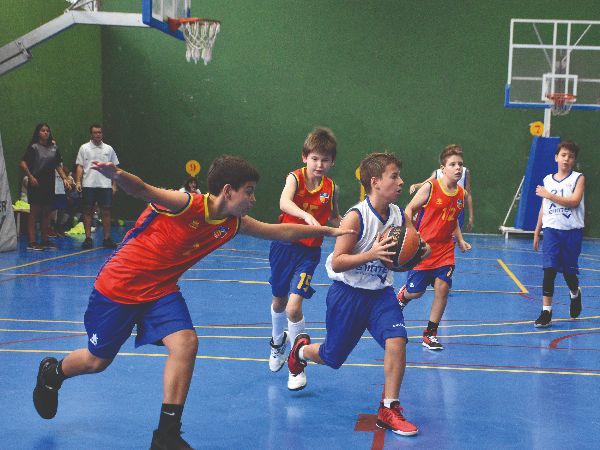 ---
CAMPUS OF FUTSAL AT CHRISTMAS AT LAIETÀ
AT CHRISTMAS FUTSAL!
On 23, 24, 27, 28, 29, 30 and 31 December and 3, 4, 5 and 7 January, a new edition of the Christmas Campus of the Laietà Futsal Section  will be held for children from  5 to 12 years old.
The schedule will be from  9:00 a.m. to 5:00 p.m.
Full Campus
Prices: Members: 275€Players
Section: 320€External
players: 385€Per
day:
Members: 32€
Players Section: 35€External
Players: 45€
Registrations  are already open, deadline on Friday, December 17  at  Member Service  or  futbolsala@laieta.cat.
You can also fill out  this  form.
We are waiting for you!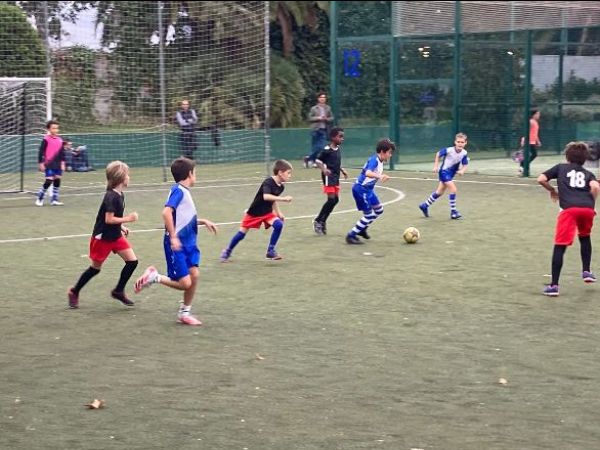 ---
PADEL STAGE
Padel at Christmas!
This Christmas we are waiting for you on the paddle tennis courts!
From 27 to 31 December 2021 and for minors (from 8 to 16 years old)
From 9 a.m. to 12:30 p.m.: 2 hours of class and 1 hour of match
Minimum group of 3 students (all levels)
Limited places
Price for Members or students: 175€ (week)
Price for Non-members: 225€ (week)
Information and registration: padel@laieta.cat
All the information  here.
C.E.Laietà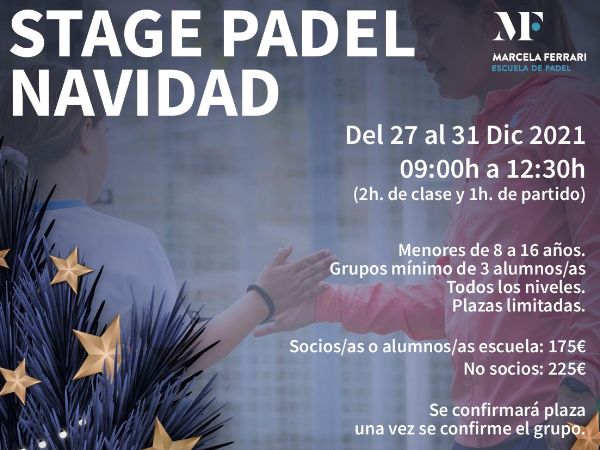 ---
STAGE TENNIS
Tennis
Dear:This year, for the Christmas holidays, from December 27 to 31, we organize from the Tennis section, a morning training stage from 8:30 a.m. to 10:30 a.m.
This stage includes  intensive track tennis training and the follow-up of the Pere Masip del Laietà circuit tournament.
In order to track the student's championship, it is necessary to register the Pere Masip Laietà tournament directly through the  F.C.T.
The prices of the stage are:
Members: 130€
Non-members: 150€
The price includes  2 hours of competition training + follow-up tournament Pere Masip del Laietà.
NOTE: If you do not reach a minimum of students enrolled, you will not be able to do the Christmas stage.
However, we have a limited number of places for this activity. Registration for:  coordinaciotennis@laieta.cat
It is necessary to indicate the name and surname of the student, date of birth and contact telephone number.
C.E.Laietà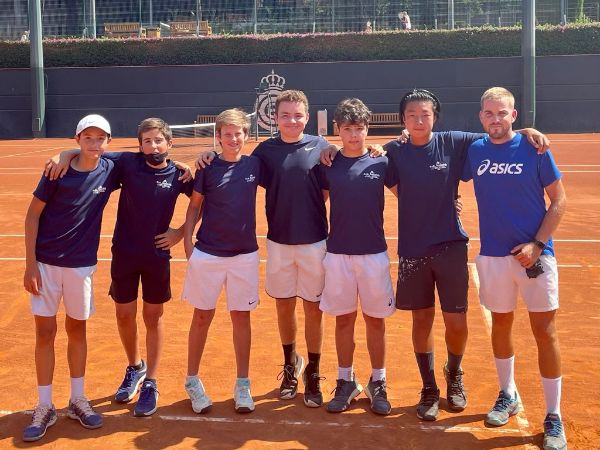 ---
START THE YEAR AT CENTX100LAIETÀ
Your restaurant
Because there is always a reason to celebrate the New Year and The Three Kings Day with us.
The Centx100laietà offers you these two special days full of illusion with special menus that you will find here,  New Year's Menu and Three Kings Day menu.
Own cuisine, local products and all our professionalism so that you can enjoy this day among your loved ones.
Do you want to have lunch with us?
Book your table in the email centx100laieta@globalbarcelona.es, on the phone 640174553 or at thelink.
Let yourself be surprised by our great cooking team.
However, we want to remind you that we have the last places for  St. Stephen's Lunch and New Year's Eve Dinner.
Check the letters to  Sant Esteve  and  New Year's Eve.
Note: Remember the obligation to comply with current anti-covid restaurant regulations
Will you let them tell you?
Centx100Laietan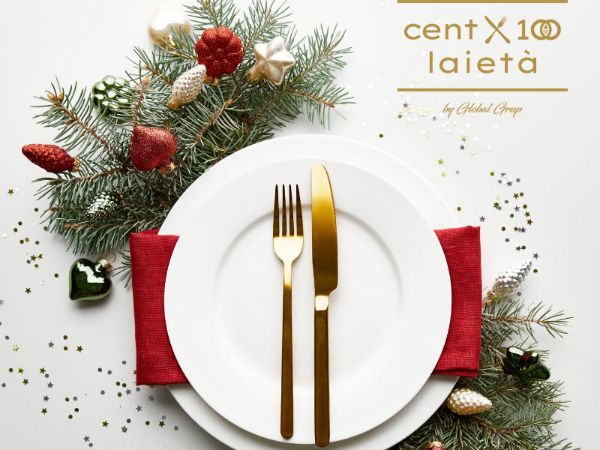 ---
MATCH AGENDA C.E.LAIETÀ
Read all the matches of our club
As every Thursday,we inform you of the  upcoming games of our sections and sports schools. Here you can check the agenda of the matches of the week from December 13 to 19:
Paddle (unavailable)
Come and cheer on our teams!
Force Laie!
C.E.Laietà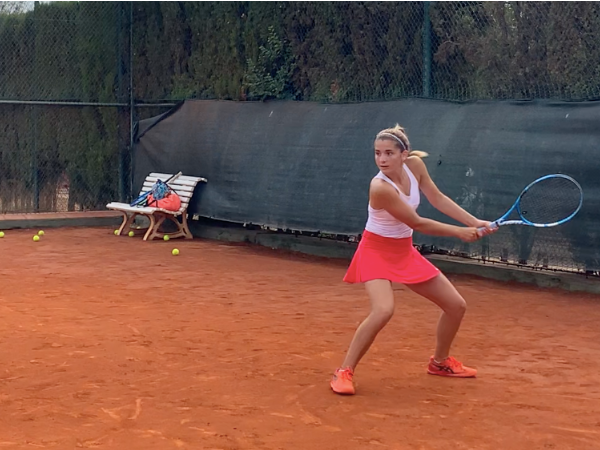 ---
REGISTRATION FOR PADDLE LEAGUES 2022
Register now by filling out the form!
We inform all paddle enthusiasts, who can now fill out the form for planning the teams that will defend the colors of Laietà during 2022.
However, we attach the  regulations.
You can register by filling out the following  form.
Let's paddle, let's make Laietà!
C.E.Laietà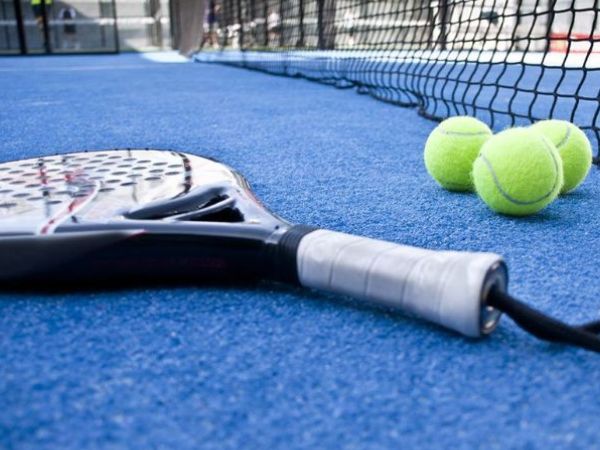 ---
LAIETÀ CHRISTMAS LOTTERY
Last numbers on sale!
Dear users,
remember that you still have at your disposal the Christmas Lottery of the Laietà Sports Club.
Our number is  18.279 and you can buy it at reception for 5€.
The last numbers remain and we will sell them until Tuesday, December 21 or until the stocks run out.
Don't run out!
Good luck Laietans and Laietanes!
C.E.Laietà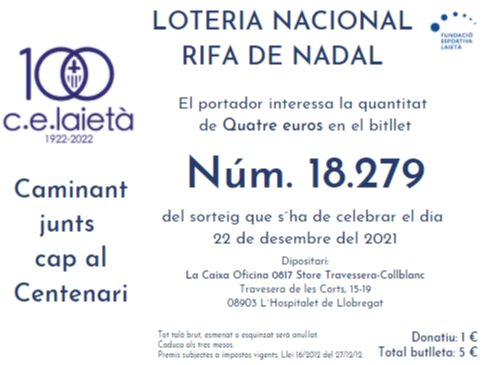 ---
IDIOMES TARRADELLAS
Travel, Talk & Drink!
Hello laietans and laietanes!
Today thursday we do thelast session of Travel, Talk & Drink of the year.
We will travel to  Texas, United States,  to learn a little more about how you live in that land.
As you know, it is a very good opportunity to practice your English (whatever your level) while having a drink in a relaxed atmosphere. Remember that we meet  thursday at 7 p.m. in the VIP room.
See you there!!!
Idiomes Tarradellas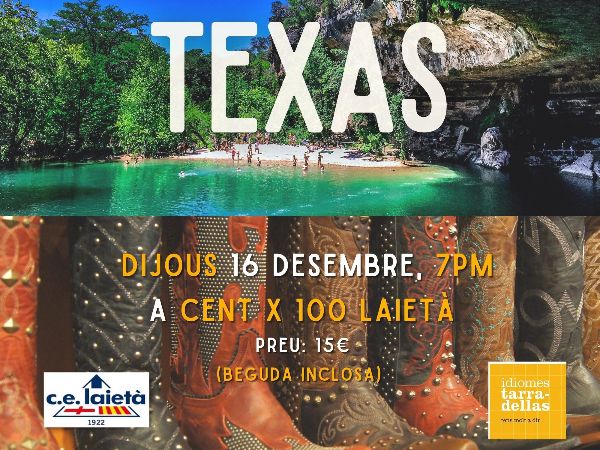 ---
PADDLE CHRISTMAS TOURNAMENT
Last places!
The Padel Christmas Tournamentarrives, and we have few places left, so members and subscribers of laietà encourage you to participate!
The tournament will be played in  the men's, mixed and women'scategory, and will be played from tomorrow Friday 17 to Sunday 19 December with a minimum of 3 games and the playoff. A welcome pack
awaits you  with gifts, chocolate, prizes, raffles and lots of fun!
Don't miss it!
More information and registration here:  Christmas Padel Tournament
C.E.Laietà