ROYAL KINGS TO LAIETÀ
Delivers the letter to the Royal Pages
We inform you that the Kings  will visit us today Tuesday 3rd and tomorrow Wednesday, January 4th.
Two  Royal Pages will collect the letters of the little ones from 18 to 20 hours in our Pergola.
We are waiting for you!
C.E.Laietà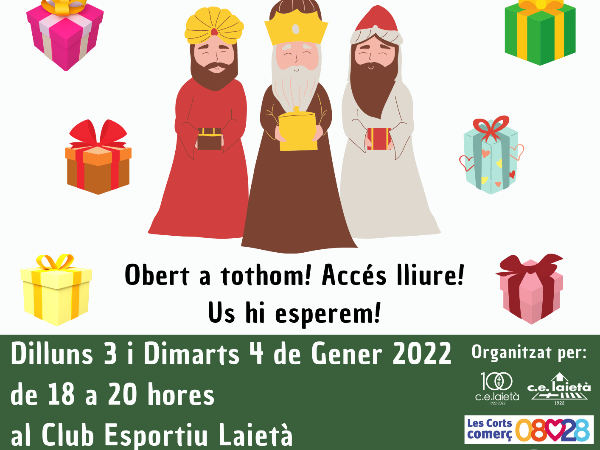 ---
CLUB TIMETABLES
During the Christmas Holidays
We inform you of the days when there will be a special closing and/or opening hours:
January 5, 2022: Open. Club closure at 10 p.m.
January 6, 2022: Open. Club closure at 10 p.m.
Thank you very much for your collaboration,
C.E.Laietà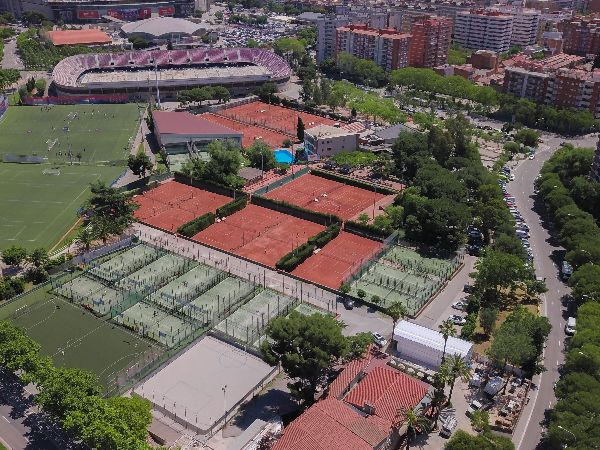 ---
MEMBER GET MEMBER
Vigent all year round of the Centenary!
Dear Members, We want to thank and reward your loyalty to our Club! That is why we will leave the Membership promotion
in force throughout the centenary year.  You are the best ambassadors of the Club and the Member carries Member,  will make the  Laietà family continue to grow and grow!
Invite your family, friends and friends to become partners!
It is very easy, you just have to bring a new partner and you will have:
The Free Monthly Fee for 2 months
*In case you bring more than one new partner, you will benefit from 2 free months for each of them.
In addition, the new partner will obtain :
1 Free Monthly Fee and Facilities in the payment of the Social Title (financing up to 5 years without interest).
*This promotion does not apply to people who have been linked to the club during the last 6 months.
If you want more information, or make an appointment with us to show our Club to the person concerned, you can send an email to marketing@laieta.cat,call  934 486 350 or go through theMember SupportOffice.
We are waiting for you!
C.E.Laietà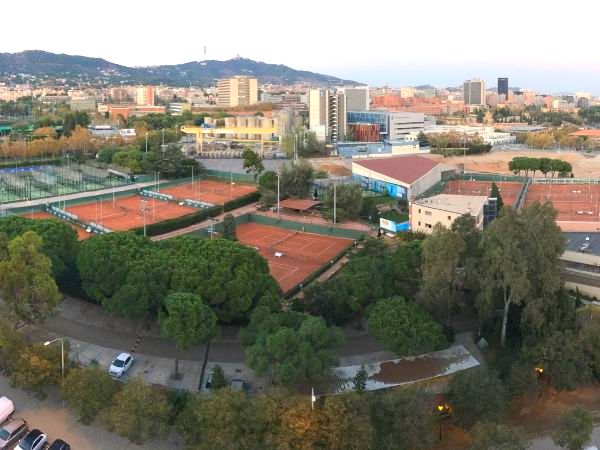 ---
PADDLE SUBSCRIBER PROMOTION BECOMES A MEMBER
All the Centenary year!
Dear Members and Subscribers,We want to continue thanking and rewarding your loyalty to the Club!
We are very pleased that you are part of the Laietà  and that is why we want our family to be bigger and bigger!
That is why we present you the  Padel Subscriberpromotion becomes a Member
Thus,  if a Paddle Subscriber becomes a Member,you willget:
For the Subscriber who becomes a Member: 1 free year of box office and other advantages*
* The new partner will have facilities in the payment of the Social Title, which can be financed up to 5 years without interest.
For the Member: a free monthly fee.
That way, they both win!
If you want to register as a new member or receive more information, you can send an email to marketing@laieta.cat,call  934 486 350 or go to thePartner SupportOffice. Don't wait any longer and cheer up! Enjoy Laietà more than ever! Become a member! 
C.E.Laietà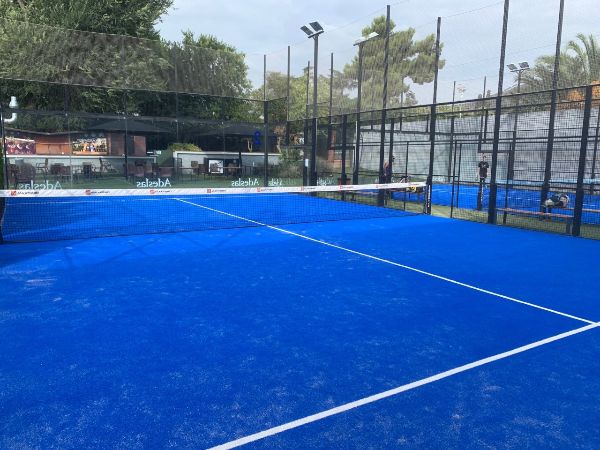 ---
LUNCH IN THE CENTX100LAIETÀ
This Thursday, January 6
You're still in time to book a table for lunch, January 6, at centx100laietà.
Because there is always a reason to celebrate Three Kings Day with us.
The centx100laietà offers you this day of enthusiasm with a special menu that you will find here,  letter of the Day of Kings.
Own cuisine, local products and all our professionalism so that you can enjoy this day among your loved ones.
In addition we have a new space, under reservation, prepared for you,  the Pergola of Laietà.
Do you want to have lunch with us?
Book your table in the mail  centx100laieta@globalbarcelona.es, on the phone 640174553or at  the link.
Let yourself be surprised by our great cooking team.
Centx100Laietan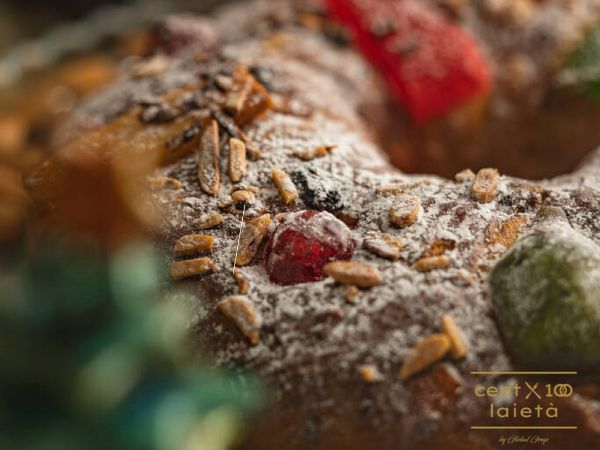 ---
RESULTS TENNIS TOURNAMENT PERE MASIP
Grans results of our players
During the last month of December the Pere Masip tournament has been played at our club. On Thursday, December 30, the finals of the tournament were played, where many of our players qualified. These were the results of our players:
Benjamin Masculine:
Victor Pla (C.E.Laietà) beats Nacho Martinez (C.E.Laietà) by 5/3 and 4/0
Patxi Berazaluce (C.E.Laietà) beats Maxi Moron (C.N.Sant Andreu) 4/2 and 4/1
Alevin Feminine:
Gelila Colet (C.E.Laietà) beats Irina Torrens (C.T.Barcino) by 6/1, 0/6 and 10-5
Male Alevin:
Alessandro Wein (C.T.Barcino) beats Andreu Alarcon (C.E.Laietà) by 7/5 and 7/5
Children's:
Mariona Escofet (R.C.Polo) beats Maria Garcia (C.E.Laietà) by 1/6, 6/1 and 10-7
Male Children:
Jordi Gonzalez (C.T.Lleida) guaya a Roger Torrents (C.E.Laietà) per 7/5 i 6/2
Nil Rubio (C.T.Lleida) beats David Lu (C.E.Laietà) by 6/1, 3/6 and 10-6
Women's Junior:
Alice Chatiliez (C.E.Laietà) beats Sara Corrio (C.E.Laietà) by 6/2 and 6/2
Junior Men:
Jan Montero (C.E.Laietà) beats Ricard Novell (C.E.Laietà) by 3/6, 6/3 and 10-8
Jayson Viernes (C.E.Sánchez-Casal) beats Noah Mashaka (C.E.Laietà) by 2/6, 7/5 and 10-8
We are very proud of all of you.
To keep working and getting better!
C.E.Laietà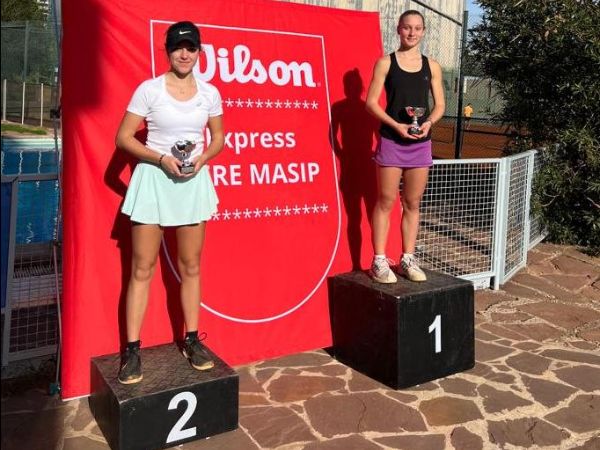 ---
RENEWAL OF LICENSES 2022
Catalan Padel Federation
We inform you that the deadline for the renewal of federation paddle licenses 2022 is now open.
You can carry out this procedure from Customer Service.
You have as a deadline of January 20th,
Thank you very much,
C.E.Laietà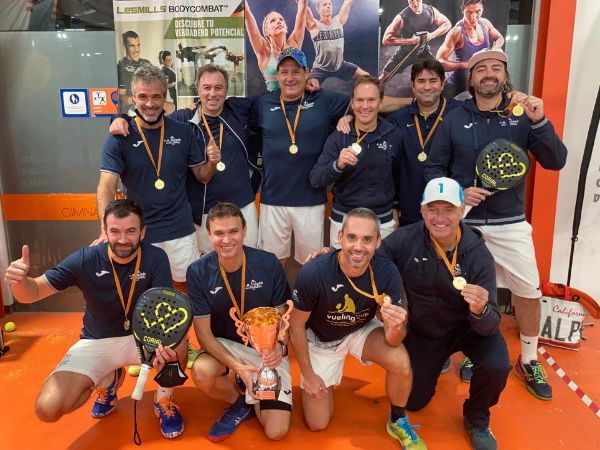 ---
ONLINE BOUTIQUE OF THE C.E.LAIETÀ
Available on the website
Dear users,
we remind you that you have at your disposal the online store of the Laietà Sports Club.
You will find  T-shirts, polo shirts, sweatshirts, jackets, vests, softshells, towels and lots of clothes for men, women and children.
Come in now and discover the Centenary special line and all our ideal accessories to buy and give!
Don't think twice, choose the one you like the most,
Click here:  Laietà's shop
Make Laietà!
C.E.Laietà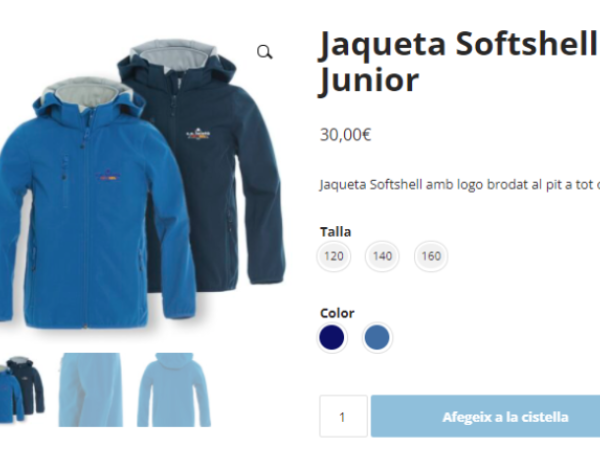 ---
COMTE DE GODÓ TROPHY
Tickets now available
Dear users,
The Barcelona Open Banc Sabadell 69 Comte de Godó Trophy has confirmed the organization of the 2022 edition.
The tournament will take place from  16 to 24 April 2022 at the facilities of the Real Club de Tenis Barcelona 1899.
Ticket andseason ticket sales for the general public have already begun  here and will be active until Friday, March 25, 2022.
On the other hand, people with a federation license can enjoy a 12% discount when buying tickets.
Send an email to:  coordinaciotennis@laieta.cat and they will tell you how to do it.
C.E.Laietà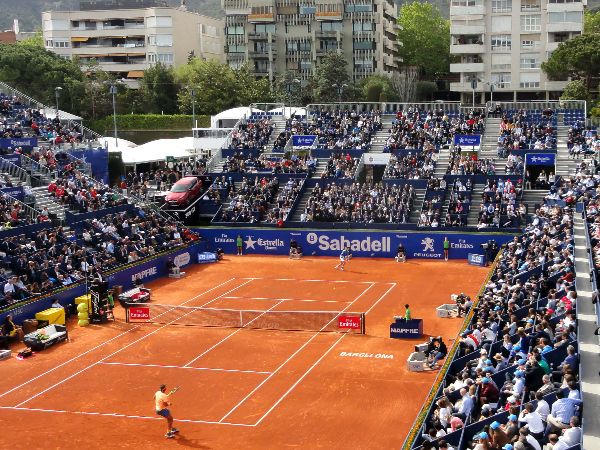 ---