Agreement with Aura Foundation
Welcome Andres
Dear members/partners
Today we announce that the Laietà Sports Club has reached an agreement with the Aura foundation, a non-profit organization founded in 1989 with the aim of socially and occupationally integrating people with intellectual disabilities in Barcelona and its surroundings.
Aura Fundació was the first organization in Spain to implement the "Work with Support" methodology, which consists of offering personalized support so that the person with an intellectual disability can work in an ordinary company, and it extends throughout the useful life of the contract
Through this agreement, we are adding Andrés Soler to the maintenance team, who will be doing an internship at our club during the month of February and with the option of extending his contract in the coming months.
Glòria Canals, president of Aura Fundació, says that "people with intellectual disabilities can work in any company if they are given the right support. I am convinced that Andrés will do a very good job at Laietà and we will help make this possible".
From Club Esportiu Laietà we want to give you a big welcome!
C. E. Laietà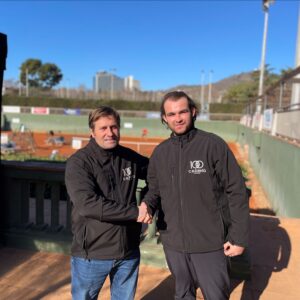 LAIESPORT PROMOTION
Free for the month of February
Dear partners,
This February you have the possibility for your sons and daughters to come and discover Laiesport. Laiesport is aimed at boys and girls between 3 and 8 years old who want to do sport in a playful and fun way. Every Saturday from 10:00 to 13:00 they will practice different sports in our facilities and exceptionally this February they can do it for free.
This promotion is available to boys and girls between 3 and 8 years old who are members or children of members. To process the registration, you must write an email to direccio@laiestiu.cat indicating the day or days you wish to enjoy the promotion.
We look forward to your participation! Long live Laiesport!
C. E. Laietà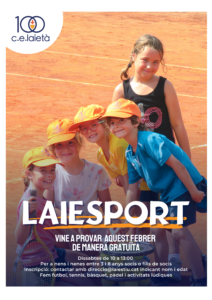 Carnival Laietà
From February 16 to 19
Dear partners
There are 10 days left until the arrival of the Carnival and from the Club we want to start warming up the engines for this party. This year we want Laietà to be a permanent costume party from February 16 to 19. You can come and play tennis, paddle or even go to the gym in your costumes.
Take pictures of yourself in the club and tag us so we can see and share them
At the end of the Carnival, prizes will be awarded to the best costume, the most elaborate costume and the most original costume. It is very important that you tag us on Social Media (@clublaieta) so we can see your costumes
Come and enjoy some very colorful days at Laietà with all of us!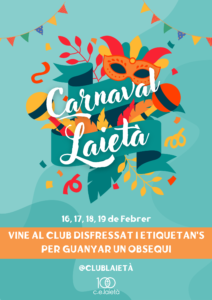 Social Advantage of the Week
Every Monday we highlight a Social Advantage
Today we share with you the promotion available from the Tarradelles Language School.
A team of teachers who have been training students in languages since 2002.
Helping children, teenagers, adults, companies… and adapting courses and content to their needs.
If you are a Laietà member or subscriber, enjoy a 10% discount on school courses and a 5% discount on private lessons.
We remind you that you can consult more Social Benefits on our website: https://laieta.cat/vantatgeas-socials/.
So, we call on partners who have companies and are open to offer discounts and benefits for your partners. You can contact the Marketing department by sending an email to marketing@laieta.cat.
Thank you so much,
C. E. Laietà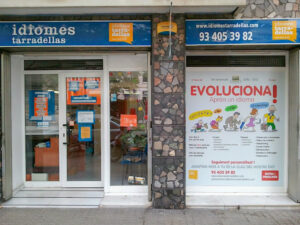 Schedule and Results of the Matches
Sports sections and schools
We inform you of the results and the schedule of matches of our sports sections and schools.
Schedule of matches
Results of the week

Classifications