Delivery of the centenary entity distinction
Event at Barcelona City Hall
Dear
Last Wednesday 8, our president Mr. Jaume Riera, received the distinction for centenary entities and institutions in an emotional event held at Barcelona City Hall. It is the first edition of the award of this recognition received by 97 entities and institutions in the city.
This is a new distinction intended to recognize the career of those entities that are 100 years old or more and have a proven track record linked to Barcelona.
Laietà Sports Club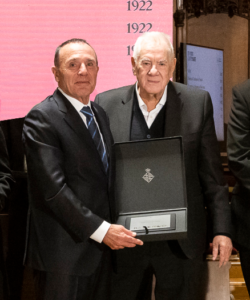 –
Championship of Catalonia for padel teams
Schedules of our teams
Dear/Dear
This week the Catalan Team Padel Championship is contested with representation of our teams in the following categories.
2nd Men's (Junior Club): First round Friday at 20:00
3rd Women (Atlético Terrassa Hockey Club): First round today at 19:45
4th Men's (Pàdel Barcelona El Prat): First qualifier Friday at 10:00 p.m
6th Men (Fibra Prèmium Esports Club) First heat Wednesday at 21:30
Good luck in this championship! Go Laie!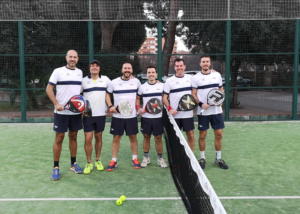 –
Carnival in Laietà
Come to the Directed Activities in your costume
Dear partners
On Thursday 16 at 19:00 and Saturday 18 at 11:30 you can come to Zumba Carnaval. These special classes will have the usual rhythm and the theme of the costume is free.
In addition, on Friday the 17th the morning classes will also be part of the Laietà Carnival!
From February 16 to 19, we want Laietà to be a permanent party. You can come to play tennis, padel, football, basketball and also to the gym in your costumes. Take pictures in the club and tag us on social media (@clublaieta).
Don't let them tell you! Come and enjoy the Carnival party while you get in shape at Laietà!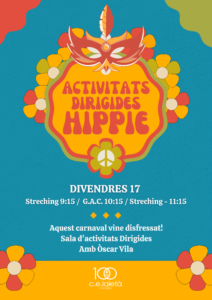 –
Aesthetic Gift for Valentine's Day
Gifts that fall in love
Dear/Dear
Our beauty service manager Sílvia Monclús (692876199) has selected for Valentine's Day a range of exquisite treatments at great prices, where you can choose between facial, body, hand and foot treatments and a complete comprehensive ritual from head to toe. Gifts designed for both him and her.
Don't think about it and this Valentine's Day treat yourself to a treatment at Estética Laietà. We are sure you will repeat.
C. E. Laietà
–
Padel court maintenance
From February 13 to 15
Dear padel players,
Intensive maintenance work on the padel courts began today with work on courts 3, 4 and 5. Between tomorrow and Wednesday they will be carried out on the rest of the courts
The aim is to improve the state of the tracks and have them in optimal conditions for the practice of the sport. This is the first action of a series of actions that will be carried out during the year of which we will keep you informed.
The performances will take place in the morning to minimize the impact on bookings.
Laietà Sports Club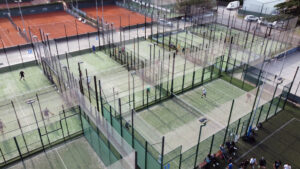 –
MATCH DAY
In the VIP Room
Dear/Dear
Live at the Laietà the Barça vs. Manchester United Europa League Play-off!
This Thursday at 18:45 Barça face Manchester United in the first leg of the Europa League Play-off. 12 years after the final at Wembley Stadium that gave the Blaugrana club its fourth Champions League, the two teams meet again in their best moment of the season.
We are waiting for you to experience a match with us that promises strong emotions. Make Club! Come to Laietà!
C. E. Laietà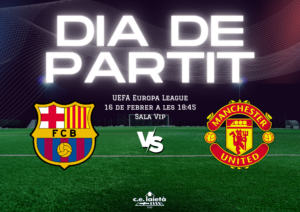 –
Schedule and Results of the Matches
Sports sections and schools
We inform you of the results and the schedule of matches of our sports sections and schools.
Schedule of matches
Results of the week

Classifications