The search for Chocolate eggs
For Holy Week in Laietà
Dear members/partners
We present the Easter campaign of Club Esportiu Laietà.  There are only 2 weeks left until Easter and this year we want to prepare a sweet surprise for all the boys and girls.  From the 3rd to the 6th of April they will be able to find chocolate eggs hidden throughout the club.
Every day we will put clues on the club's Instagram to know where they can find them and we ask that when you find them, share a photo on social networks mentioning @clublaieta.
This activity is open to all Laiesplai participants and also to all those who come to the club on these dates.
Do not forget to pay close attention to the clues that we will be publishing and we hope that you will be successful in your search.
Laietà Sports Club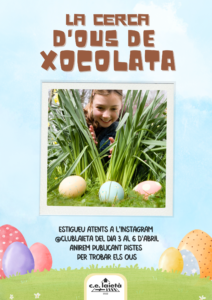 Benéfic Padelante Padel Tournament
April 15 and 16
Dear members/partners
We present the Padelante charity tournament that we will host at our club.  On the weekend of April 15 and 16 you will have the opportunity to participate in a very special tournament that is in its second edition.
The funds will go to Anne Fundació: a medico-psychological center whose aim is to treat children and adolescents aged 3 to 18 with a neurological or psychological problem that interferes with their development.
Registration is open until April 10 and places are limited.  Club members have 2 days before the opening to the general public, we recommend that you do not delay in signing up.  You will find a registration QR on the attached poster
We look forward to your participation and that you enjoy this beautiful tournament.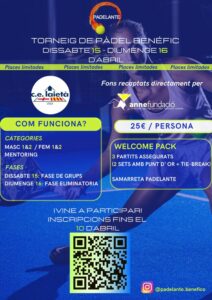 Introducing a new sponsor
The Paddle Clinic
Dear
Today we present a new sponsor of the Club.  This is the padel clinic of Dr.  Angel Bigas  A project that began in 2014, in Barcelona, ​​to cover the needs of a sport that has not stopped growing in the number of practitioners in the last 10 years.
The aim of the Padel Clinic is to provide medical coverage to these athletes, both in cases of acute and chronic osteo-muscular pathology (tendinitis, sprains, etc.).
In addition, they offer prevention programs to avoid these muscle injuries, so common in these players.  To do this, they develop trunk and limb muscle toning protocols, which will be supervised under the supervision of a sports osteopath.
They also offer a new online health channel www.laclinicadelpadel.com via WhatsApp and to celebrate the start of this sponsorship at the club they offer a 20% discount to Laietà members on this service.
Laietà Sports Club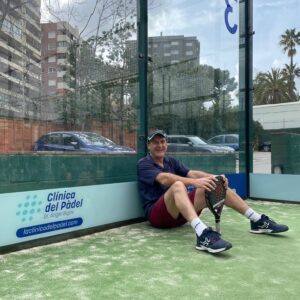 Padel court repair
Track 2 now available
Dear padel players
We would like to inform you that the repairs on padel court 2 have been completed and new glass has been installed.  The track is now available for use and this week has been used to carry out intensive maintenance so that it is in the best possible condition.
We continue to work to improve our facilities
Laietà Sports Club