We welcome Andrés Soler
Dear members/partners
Today we announce that the Laietà Sports Club has added Andrés Soler to its staff through a fixed and indefinite contract, who will be part of the club's maintenance team.
Aura Fundació is a non-profit organization founded in 1989 with the aim of socially and occupationally integrating people with intellectual disabilities in Barcelona and its surroundings. It was the first organization in Spain to implement the "Work with Support" methodology that it consists of offering personalized support so that the person with an intellectual disability can work in an ordinary company, and it extends throughout the useful life of the contract.
Our president Mr.  Jaume Riera celebrated the signing of the contract, expecting it to be the start of a great collaboration with the Aura foundation.  He said that the Laietà Sports Club and all its partners are committed to equal opportunities and integration.
María Cabre, director of Aura Fundació, thanked the club for its commitment to Andrés and explained that it is a very important step for the future of the club's new employee.
We would like to take this opportunity to inform people who have employment capacity of the possibility of contacting the Aura Foundation.
From Club Esportiu Laietà we want to give you a big welcome!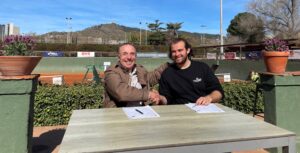 –
World Down Syndrome Day
Today, March 21, is World Down Syndrome Day.  We want to share with you this very special video made by the children and young people of the organizations of Down Catalonia.
As you can see, this video was recorded at the Laietà Sports Club facilities, a club committed to society and working for equal opportunities for all people.
We hope you like it and we encourage you to share it with your family and friends.
Laietà Sports Club