Exhibition of Table Tennis in the Pavilion
Sunday March 5 we fill the pavilion
Dear/Dear
On Sunday March 5, you can't miss the Table Tennis exhibition at the Club Esportiu Laietà Pavilion. You will be able to see Josep M. Palés, considered the best Spanish table tennis player of all time, from the front row.
His record includes 36 Spanish championships, 9 singles, 9 doubles, 9 mixed doubles and 9 for teams, and participation in 9 world championships, 9 European championships and the Barcelona Olympics '92, a legend of Spanish table tennis .
On the other hand, we will have the opportunity to see Li Qi, world champion with the Chinese team and Fede Sardà, 10-time Spanish team champion in addition to player Yanlan Li, Spanish champion of veterans +50 six consecutive times She has also been a national team champion in China.
We remind you that registration is open for the morning table tennis tournament on March 5 itself. Only for members and there are only 20 places left. Registration is done by sending an email to marketing@laieta.cat Don't miss out!
Laietà Sports Club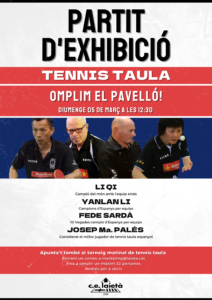 –
Action to improve the parking lot
We repaint the lines of the parking lot
Dear users,
We would like to inform you that as a result of the improvement plan resulting from the survey carried out to all our partners last January, we are starting a series of reforms in our facilities.
The first of them is to repaint the lines of the parking spaces, an action that will be carried out in the coming days.
We would like to take this opportunity to ask you to respect the marked places as well as the speed limit inside the club (10 km/h) and do not park in places that could make it difficult to pass.
Thank you very much for your cooperation,
We continue to work to improve our club!
Laietà Sports Club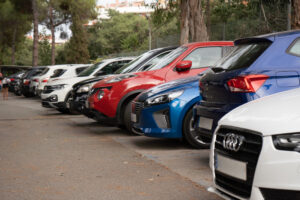 –
Learn English and have fun
With Tarradellas Languages
Introducing something new this year: Summer programs in England for young people! Together with our partner, Idiomes Tarradellas, we have prepared an offer with the best programs in England so that your children can enjoy an unforgettable summer.
What do they include?
English classes with native teachers
Accommodation in residence or families
Sports and leisure activities
Excursions
What will you take with you?
Friends, experiences, fun and learning. Don't think too much, places fly!
To request more information: info@idiomestaradellas.cat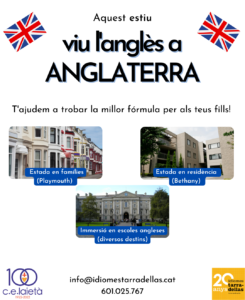 –
Catalan Youth Tennis Championship
Saturday 25th at Club Esportiu Laietà
Welcome members
This Saturday, February 25, at 9:00 a.m., our men's youth team plays at our club against CT Barcino (seed #3), the first round of the Catalan Team Championship. If they pass this round, they will play on Sunday also at 9:00 a.m. against the winner of the clash between RC Polo and CT Sabadell
The members of the team are: Victor Pla, Gerard Torrents, Nacho Martinez, Nico Weiskal, Nico Martinez, Marc Espiga and Pep Casadevall.
For their part, our players from the female youth team will play the first round also on Saturday against GEIEG.
We wish them the best of luck and encourage you to come and cheer them on!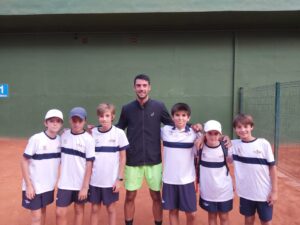 –
Easter Minibasket Campus
Open registrations
Dear basketball players
After the success of the Christmas Camp comes the Easter Minibasket Camp. From Monday 3 to Wednesday 5 April, from 9:00 a.m. to 2:00 p.m. Open to children between 8 and 12 years old.
The price will be €75 for members and €120 for non-members
The registration deadline is Friday, March 17.
To register, you can go to the member service office.
Campus open to players from any organization.
See you there!!!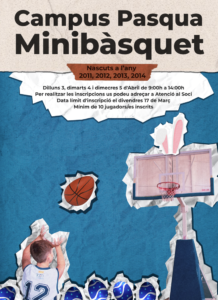 –
MATCH DAY
In the VIP Room
Dear/Dear
Live at the Laietà the match of Almeria vs. Barça de Liga
This Sunday at 6:30 p.m. Barça face Almeria in matchday 23 of the League.
The Blaugrana team will face the game with the intention of maintaining the difference in points compared to their pursuers. While Almeria is seventeenth after stringing together three consecutive defeats.
We are waiting for you to experience this match with us. Make Club! Come to Laietà!