Laiesplai Easter
Registrations open!
Welcome members
This Easter come and enjoy the Laiesplai de Semana Santa in Laietà between April 3 and 6.
Renewable energies will be our center of interest, the boys and girls will work, apart from many sports activities, others related to sustainability.  To begin, we will learn the types of renewable energy that exist and what their benefits are
For more information contact Member Services, send an email to direccio@laiestiu.cat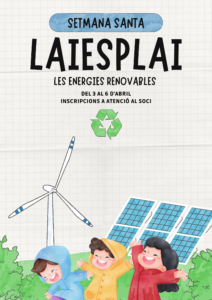 –
Spanish Tennis Championship +55
The semi-finals are coming
Dear partners
Our Tennis Veterans + 55 team is competing this weekend in the semifinals of the Spanish Veterans Championship.  After beating Club de Tenis Torre-Pacheco de Murcia by 3/1, the team will face RGC Covadonga, a tie that will be played on Asturian soil.  We wish our team the best of luck and hope they can make it to the grand final scheduled for the first weekend in April.
Laietà Sports Club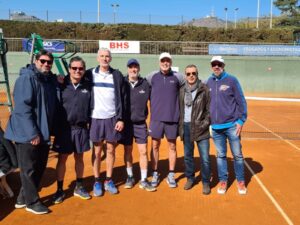 –
LAIETAN AESTHETICS
Take part in the draw for a Radiofrequency treatment
Dear partners,
Do you already know our Beauty Center in the club?  Silvia Monclús offers a series of beauty services to take care of you.
So, during the month of March, we want to offer you a raffle to get a Radiofrequency treatment.
To participate, you only have to follow the @estetica.laieta and @clublaieta profiles on Instagram, like the draw post on the @estetica.laieta profile and make a comment tagging the person you want.
You can enter as many times as you want as long as you mention a different friend in the comment.
You have until March 23, 2023 at 11:59 p.m.  On March 24, the winner will be announced in @estetica.laieta's Stories.
Good Luck!
–
Learn English and have fun
With Tarradellas Languages
Introducing something new this year: Summer programs in England for young people!  Together with our partner, Idiomes Tarradellas, we have prepared an offer with the best programs in England so that your children can enjoy an unforgettable summer.
What do they include?
English classes with native teachers
Accommodation in residence or families
Sports and leisure activities
Excursions
What will you take with you?
Friends, experiences, fun and learning.  Don't think too much, places fly!
To request more information: info@idiomestaradellas.cat
DISCOUNT FOR MEMBERS
For some of the programs, see terms.
Don't think too much, places fly!
Ask us for information: info@idiomestaradellas.catinfo@idiomestaradellas.cat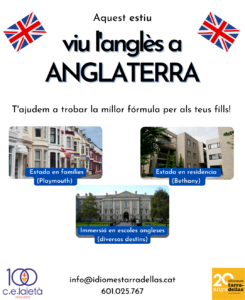 –
Easter Minibasket Campus
We extend the registration period
Dear basketball players
There are only 3 weeks left until the start of the Easter Minibasket Camp.  From Monday 3 to Wednesday 5 April, from 9:00 a.m. to 2:00 p.m.  Open to children between 8 and 12 years old.
The price will be €75 for members and €120 for non-members
The new registration deadline is Friday, March 24.
To register, you can go to the member service office.
Campus open to players from any organization.
See you there!!!  🏀🏀🏀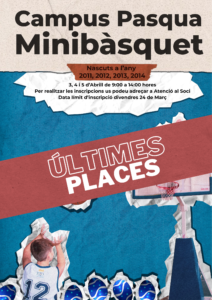 –
MATCH DAY
In the VIP room
Dear/Dear
Live at the Laietà the Barça vs.  Madrid of matchday 26 of the league
This Sunday at 21:00 Barça face Real Madrid in the third Clásico of the season, a match that could be decisive for the League championship.
Barça maintains a 9-point advantage after the Blaugrana team's minimum victory against Athletic Club and also recovers important players.  On the other hand, Madrid needs to win to maintain some hope in the championship.
We are waiting for you to experience a match with us that promises strong emotions.
Make Club!  Come to Laietà!