SPORTS SCHOOLS
Let's get started!
Dear Laietans and Laietanes,Today
we start training!
However, you are still in time to register  for the sports schools, in addition to the services of Laiesport, Laiesplai, monitoring and English school.
You can find more information on the Website, in our Sports Dossier, by contacting the member or those responsible for each section:
General information: comunicacio@laieta.cat / atencioalsoci@laieta.cat (Esther and Sílvia)
Futsal: futbolsala@laieta.cat (Miguel Ángel Montoro "Juancho")
Tennis: tennis@laieta.cat (Pere Icart)
Basketball: basquet@laieta.cat (Lluis Ferrer)
Padel: padel@laieta.cat (Marcela Ferrari)
Laiesport/Laiesplai: direccio@laiestiu.cat (Miguel Ángel Montoro "Juancho")
Let's do sport in Laietà!
C.E. Laietà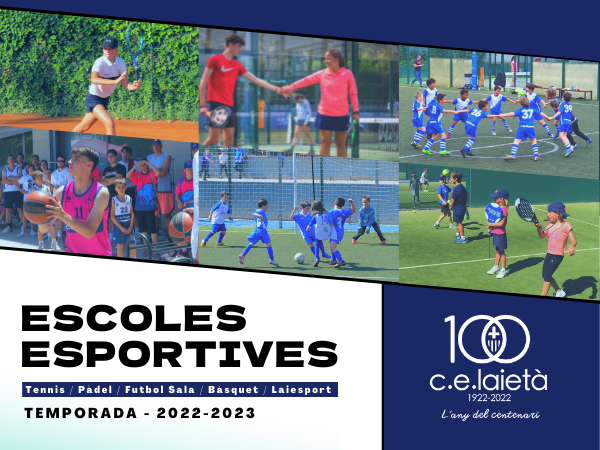 ---
MEMBER'S DAY
Saturday, September 17th
Dear members,You can now book this date: Saturday, September 17, 2022.
It will be the day dedicated to all of you, in which we will carry out all kinds of activities for children, young people, adults and the elderly. Member's Day schedule
10h – 13h Sports Olympics (basketball, football, paddle tennis, tennis and swimming pool)
11h – 13h Country MasterClass
12h Opening Centenary Exhibition
17h30 – 19h30 Magic and musical animation by Xaxi Xixarrus
20h30 – 23h Concert by Mute
11pm until the end of the party – White Party with DJ
All this accompanied by inflatables in the pool throughout the day and food trucks (sweet and savory) to gather strength in the morning, noon and night!
You can register to participate in the sports Olympics here
 (activity open to everyone! / minimum age to participate: 10 years)
Don't miss the Centenary Member's Day  !
C.E. Laietà!
---
BARÇA MATCH
Champions
Dear users,
Live in Laietà the match of Barça and Victoria Pilsen!
On Wednesday, September 7th at 21:00 come to enjoy the game, on our giant screen installed in the Pergola area.
We look forward to seeing you there! Become a Club! Come to Laietà!
C.E.Laietà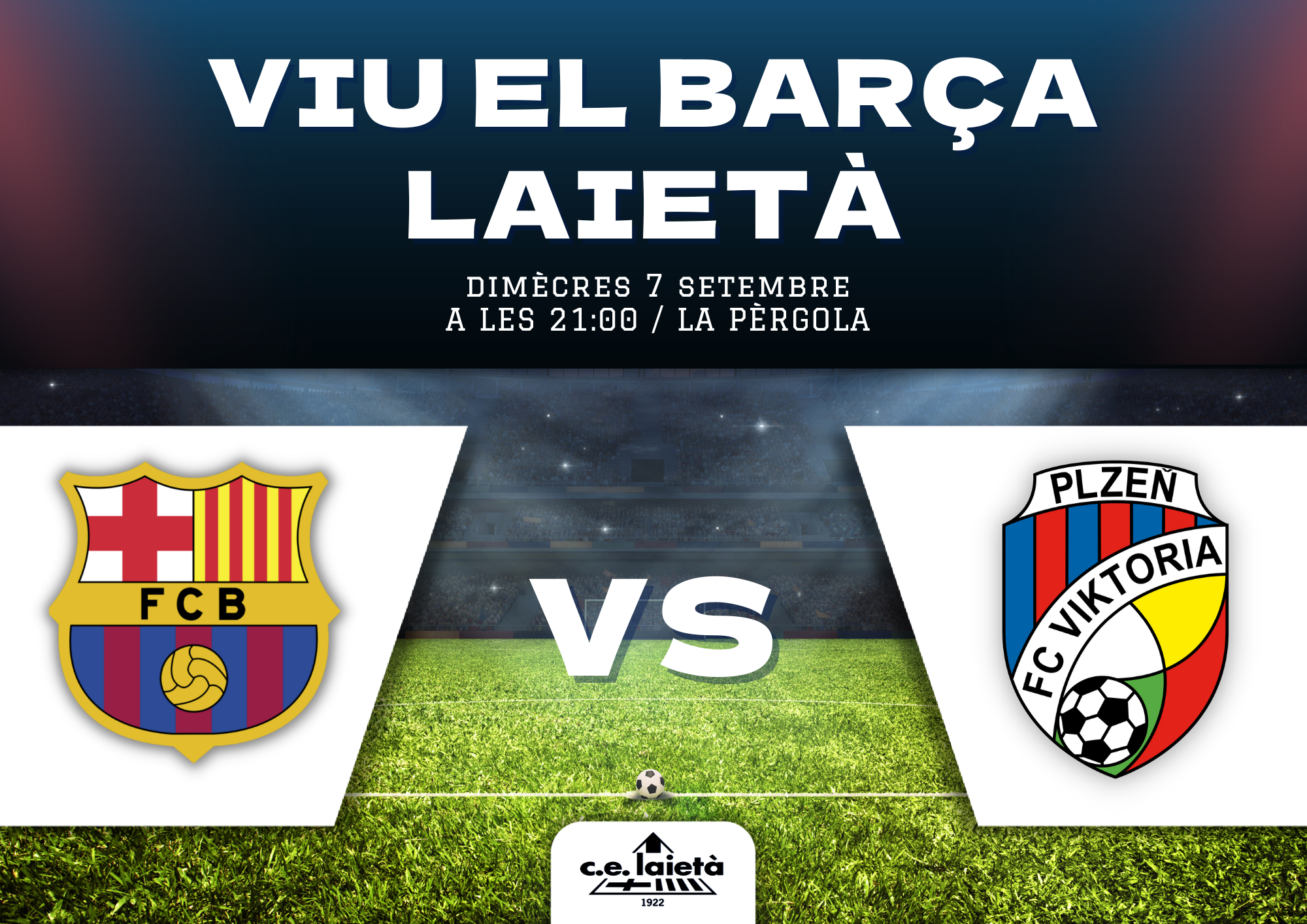 ---
NEW FLOOR INSTALLED 
Basketball Pavilion
Dear Laietans,
You can now enjoy the new pavement in the basketball pavilion. Day after day we continue working on improving the facilities and, therefore, your experience at the club!
C.E.Laietà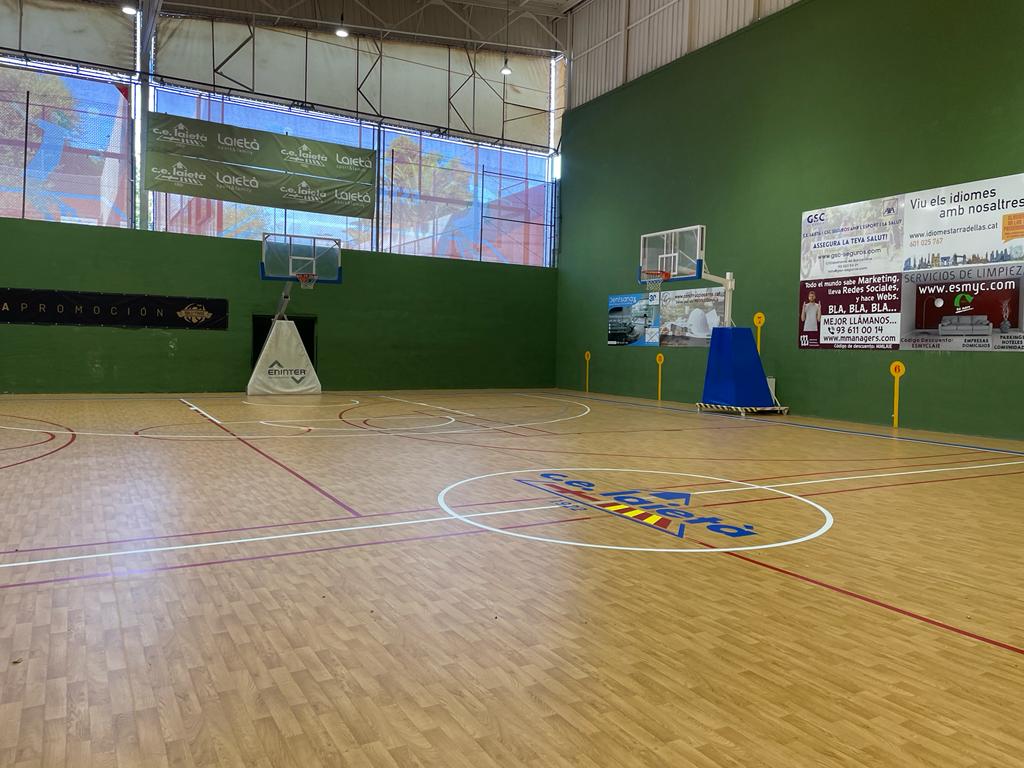 ---
COMPULSORY ACCESS TO THE CLUBWITH YOUR PERSONAL CARD OR BRACELET
Reminder
During the last months, numerous members, subscribers or school students without wearing a card or bracelet have been presented to the Club to access it pedestrianly, mandatory in all clubs similar to ours.  This fact does not help in the safety and everyday life of the Club, and adds a lot of unnecessary work to the staff. That is why we remember the obligation to access the Club with the personal card or bracelet.
Keep in mind that the shifts are closed throughout the opening period of the Club, except for the hours between 13 and 15.30 hours in order to give access to non-members who come to eat at the restaurant.
In the first fortnight of September there will be a campaign to remind you  of this obligation to access the Club with your  personal card or bracelet to all groups that have the right of access. From 15 September, access will be denied to anyone who wants to access the Club and does not wear a card or bracelet without justification or repeatedly. If you have
lost or do not have your card or bracelet, you can request a duplicate at the member service office.
We ask for your help, your understanding and collaboration in this aspect of access control in order to improve security, get jobs that staff should not have, as well as ensure that you enjoy the Laietà who has the right to it.
LET'S MAKE THE LAIETÀ BETTER TOGETHER!